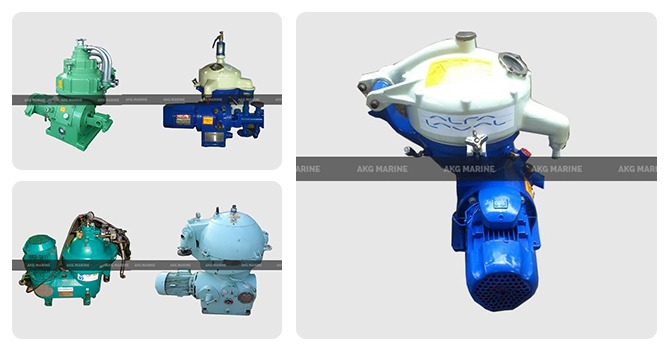 Marine Oil Purifier
17 Apr, 2021  
There is a high demand for used marine supplies in world. There are many attributes of these items and majority of people like them for their uniqueness, quality and durability. A lot of companies are among the top ship spare parts suppliers of the country, but one company which has registered a remarkable presence is AKG Marine.
The company holds a long track record in this segment and has created its identity based upon the best quality of ship spare parts which it supplies all over the world. AKG Marine is specially know for supplying Marine Main Engine Spare Parts, Marine Auxiliary Engine, Turbocharger, Governor, Hydraulic Motor and Pump, Oil Purifiers, Fresh Water Generator and Heat Exchangers.
There is special mention of the marine oil purifier supplied by AKG Marine and there are many reasons behind this. To know more about the role of oil purifiers and their advantages, you must find out in this blog.
Important role of oil purifiers:
Professionals of the oil industry know why oil purifiers are so important and how they are advantageous to them. The major function of oil purifiers is to take away unwanted elements like particles, dirt and even water from it so that what remains is purified oil. Whether it's a new one or a used oil purifier, it has a centrifuge bowl and when it is rotated, centrifugal force gets applied at very high speed. In this process, the impurities and the contaminated oil start purifying.
To be precise, forcing out the unwanted impure particles from the oil is the prime objective of an oil purifier. This becomes possible only with repeated and fast movement of the centrifuge bowl inside it. When the operation is complete, the lighter particles and impure fine components deposit over the bowl edge and then, it become easier to remove them.
But this is not all. There can still be water in the oil and that means the oil is still not completely purified. To remove water, temperature of the oil is raised in such a way that oil's SG comes down and as a result of this process, oil is complete free from water along with the other impure components.
Best in supplying used oil purifier:
This company AKG Marine stands out in providing the best and the most durable used oil purifiers. It has a name not only in India but also has a large export, particularly those which are meant for auto bowl cleaning operation for the process of oil purification. For this, a unique control system is used from which water is applied by pressure. AKG Marine's used oil purifiers are high in demand for purifying the fuel oil used on ships and also for purifying lubricating oil for diesel engines.
Conclusion:
At this time when there is huge requirement and need for best quality of marine oil purifier, AKG Marine is simplifying its availability at affordable prices. With a long standing in supplying used marine ship supplies, AKG is pioneering the demand very well.