Ship Spare parts Supplier In India | AKG Marine
AKG Marine is One of the Leading Ship Spare Parts Supplier in India, a wide range of Used Marine Equipment including Marine Main Engine Spare Parts, Marine Auxiliary Engine, Turbocharger, Governor, Hydraulic Motor and Pump, Oil Purifiers, Fresh Water Generator and Heat Exchangers. We have been serving our clients with high-grade quality and durable range of products in different parts of the world. We procure these products from one of the reputed manufacturers in the country. Available in different specifications, our products are highly appreciated for their corrosion resistance, tensile strength, extended durability, impeccable quality and unbeatable offered price.
Located in Bhavnagar (Gujarat). We assure to serve you with our best and skill-full team of professionals for custom-made products and services for absolutely any sort of requirements. We are very determined and firm to provide timely service to all our customers.
Our company's ultimate motto is to establish long term business relationships with all our clients, providing an uninterrupted service throughout, "ON TIME EVERY TIME" With our extremely proficient team of professionals, we ensure to provide you with an incomparable and timely service to all our clients. We are Ship Spare Parts Supplier in India delighted to serve you for all your needs and personalized requirements by assuring a prompt, polished and cost effective service. We being one of the Best Marine spare parts Suppliers are actively working towards satisfying all our customers with an ideal service. We have always been careful to achieve customer's complete satisfaction, hence today we are amongst the most experienced & desired service providers. Feel free to contact us anytime for any requirements.
AKG MARINE is a reputed supplier of ship machinery supplying high quality used and unused ship machinery since 2006. With 2 ship recycling yards in Alang & 10000 sq. yard warehouse at Mamsa, we are well equipped organization having complete facilities, equipment and an efficient workforce to work in marine industry.
Our mission is to provide quality service with professionalism, reliability and competitiveness.
To meet the requirements of our valued customers with the best quality and services.
Our each and every business activity aims at increasing the satisfaction level of our esteemed customer.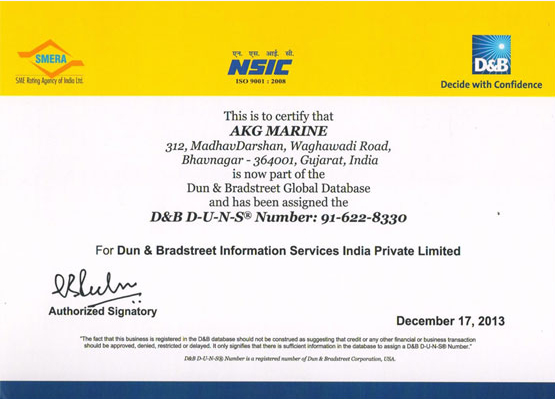 D & B Certified
AKG Marine
AKG Marine Is a Certified Company With D&B database.
Working together with a group of ship owners, ship managers, ship repairers, workshop and maritime institutions, we always strive to offer quality, cost effective ship machinery and spare parts. We have good networks with various air and sea cargo movers and therefore ensure smooth logistics solutions to deliver the ordered parts as soon as possible and satisfy the customer.
View Certificate